The latest technology makes it possible to fax from the office suite of Google (Google Drive, Gmail and Google Docs). Numerous options allow you to send a fax from popular products of Google. You will need a third-party online fax service.
A reliable online fax service acts as a virtual fax machine to send and receive faxes. You will get a free fax number from this service to send faxes through a web interface, an email, and a computer program or smartphone app. See the best options to send and receive faxes via Google products.
CocoFax: Best Online Fax Service
CocoFax can help you to fax online with Google  office suite. With this cost-effective service, you will not need an in-house fax server or a fax machine. It is suitable to manage high-volume faxing needs of a growing business.
It has millions of satisfied users all over the world. CocoFax gets recognition from TechRadar, New York Times, Life Wire and CNET. With HIPAA compliant faxing, they offer maximum security for your incoming and outgoing faxes. You can also check this CocoFax review post to know more about it.
Send Fax from Google Drive    
If you want to send a fax from Google Drive, you have to sign up with CocoFax. In this way, you can avoid unnecessary expenses of a fax machine, busy phone lines and numerous other issues. See these steps to fax Google Drive documents.
Step 01: Sign up with CocoFax to get a 30-day free trial and a free fax number. Complete this process after entering your details and select a suitable purchase plan.
Step 02: After verification of your email address, you will be able to access the dashboard of CocoFax. Go to CocoFax Dashboard and tap "Send Fax". You will see a pop-up window to enter details of the receiver. Type in a fax number and draft a cover letter for a receiver.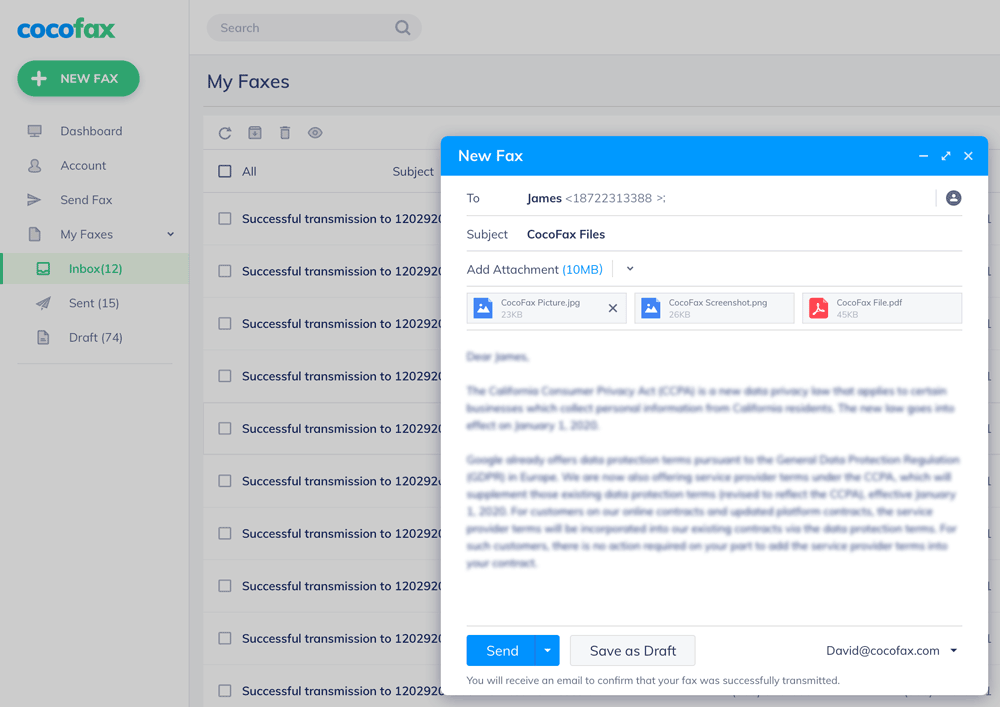 Step 03: Now, you have to add attachments. Check the "browse file dialog" and select "Google Drive". It is the right time to choose your document to attach to this message and click on "Send".
Step 04: In the final step, you will see a confirmation email. This email will inform you that your fax message is successfully transmitted.
Send Fax from Gmail
Keep in mind that email works on a digital platform. This platform is entirely different from analog fax platform. Faxes need telephonic signals; therefore, you can't send faxes directly via email. You will need CocoFax as a third party fax service.
CocoFax will become a translator between a digital medium and an analog medium. See these steps to send faxes from Gmail or any other email client.
Step 01: You will need a Gmail account, an internet connection, a CocoFax account and a fax number. If you are using CocoFax, you will automatically get a free fax number at the time of sign up.
Step 02: Once you are done with sign up, you are ready to send and receive faxes via Gmail. You will get a free fax number to manage your fax communications. Open your Gmail on a browser or open a Gmail app. Tap on "Compose an email" and start working on the pop-up window.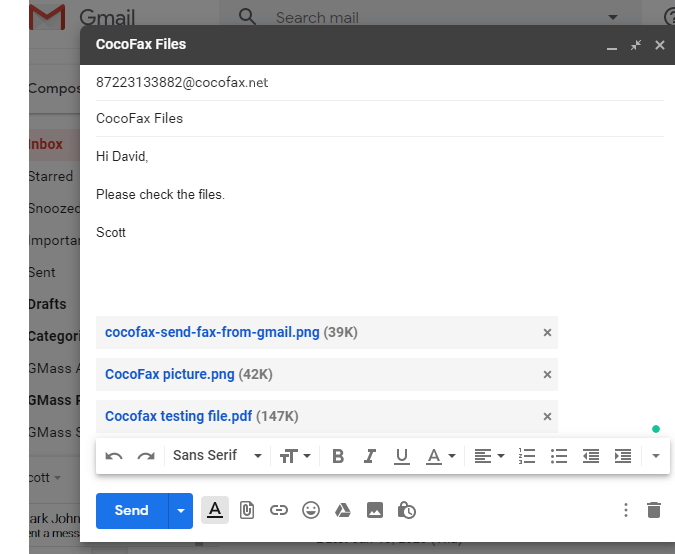 Step 03: Compose your fax and type in the fax number of recipient followed by @cocofax.com. For instance, 5456464@cocofax.com. Draft a cover letter and a subject line before attaching your document. You can attach documents in jpg, png, xlsx, xls, docx, and doc format.
Step 04: Before hitting the "Send" button, you have to double-check everything. Feel free to upload more than one document to make things easy. Remember, CocoFax can handle everything without any trouble.
You can send faxes from any email client, such as Outlook fax and Yahoo fax. To receive faxes on the same fax number, you have to share it with your clients. After sending each fax, you will get a notification and a delivery report.
If the fax is unsent, it means there is some issue at the end of the receiver. Make sure to enter the correct number and try to send your fax again. There is no need to have a 24/7 internet connection to receive faxes. You will receive each fax in your inbox. Feel free to check your faxes according to your convenience.
Conclusion
To pack the whole tutorial up in a sack, you need to be aware of the latest technology, so it's easier for you to send faxes from Google products. So, you will importantly need an online fax service, such as CocoFax. 
Use your Gmail account and a free fax number to send and receive faxes. Once you sign up with CocoFax, you will get a free fax number and a free trial period. With CocoFax dashboard, you can fax Google drive documents. It enables you to convert your smart devices into a virtual fax machine.